Workshop
MICRO-WORLDS ON THE WORLD WIDE WEB
Rik Min, Jan de Goeijen, Simulation Experts (University of Twente, the Netherlands) and dr. Kinshuk, International Forum of Educational Technology & Society 'IFETS' (Massey University, New Zealand)
The discussion took place between August 28 and September 5, 2000.
Home-page
= = =
References
Gibbs, J., and D. C. Tsichritzis, Multimedia programming, Addison Wesley.
Lemay, L., and M. Moncur, JavaScript 1.1, Academic Service.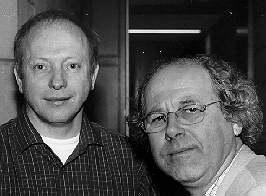 De schrijvers: Jan links, Rik rechts (UT-nieuws, 29/okt/98).
Dr. ir. F.B.M. (Rik) Min, Toegepaste Onderwijskunde (TO): Min@edte.utwente.nl
Ir. J. (Jan) de Goeijen, Onderwijskundig Centrum (OC): J.deGoeijen@oc.utwente.nl
Voor informatie over dit vak:
Rik Min
Universiteit Twente (TO/ISM)
Postbus 217, 7500 AE Enschede.
Kamer: H212; telefoon: 053 - 489.3585
b.g.g. 489.3611 (secretariaat ISM) of 489.2637 (Jan de Goeijen).
Enschede, august 2000.